Weekend Trip Nusa Penida
We're back from a great weekend in Nusa Penida as a side trip from Bali. Nusa Penida is an island located southeast of Bali and with its 247 squared meters it's much bigger than the neighboring and better known island Nusa Lembongan. Tourist infrastructure in Nusa Penida, however, isn't as developed as in Lembongan although we think this will change quickly as we've seen construction works everywhere. So get to explore this wonderful island now before the tourist crowds arrive! In this Nusa Penida guide you will find useful information to plan your perfect weekend trip from Bali.
How to get to Nusa Penida?
The easiest and fastest way to get to Nusa Penida is to catch the fast ferry leaving from Sanur beach (southeast Bali). There are several ferry companies covering this route but our hotel in Nusa Penida arranged transportation for us with El Rey Junior. The entire journey, including hotel pick-up and drop-off in Ubud, went very smooth.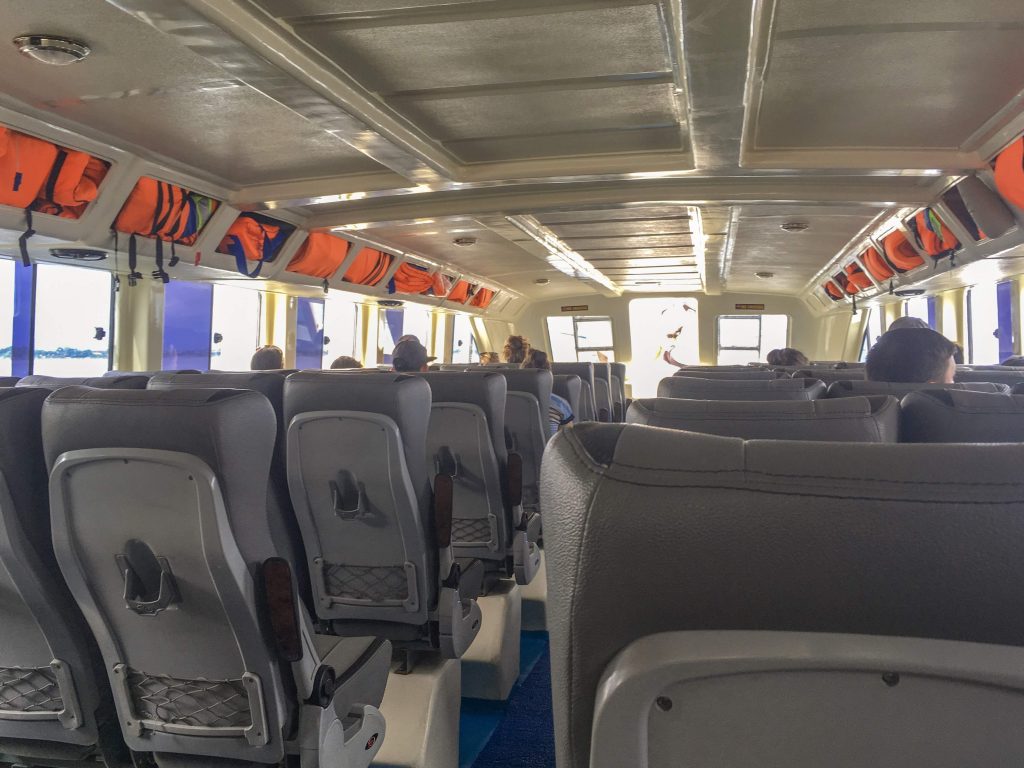 How to get around?
A motorbike is the most common transportation method on the island. Ask your accommodation for a motorbike rental or get one upon arrival at the port. Road conditions are pretty good on the north and east side of the island but get worse towards the south.
Must-see attractions in Nusa Penida
You will arrive at the port of Nusa Penida, located on the northwest side of the island. Most tourism is based on the north shore (close to the port) where you get spectacular views of Bali as well. The east and west side of the island have beautiful clifftop sights with some of the most incredible beaches in Bali!
Kelingking beach
The number 1 beach in Nusa Penida is Kelingking beach, located on the southwest coast. This was our last stop on our first day and the view took our breath away – save the best for last! The road to this paradisiac beach is a bit bumpy but the views are more than worth the effort. We didn't go all the way down to the beach but be prepared for a (very) tough hike on your way back.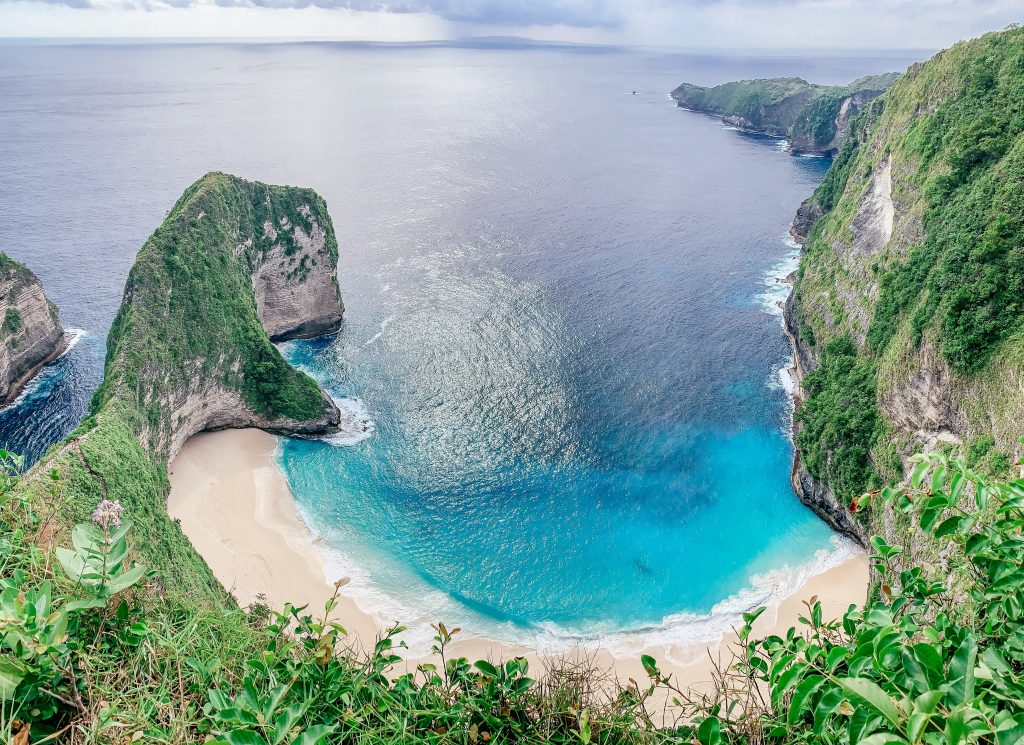 Crystal bay
This is definitely the most easily accessible beach in Nusa Penida. It has a large parking that is just a few meters away from the beach. The crystal clear water (hence the name) makes it an interesting dive and snorkeling spot. It's also the perfect place to watch sunset.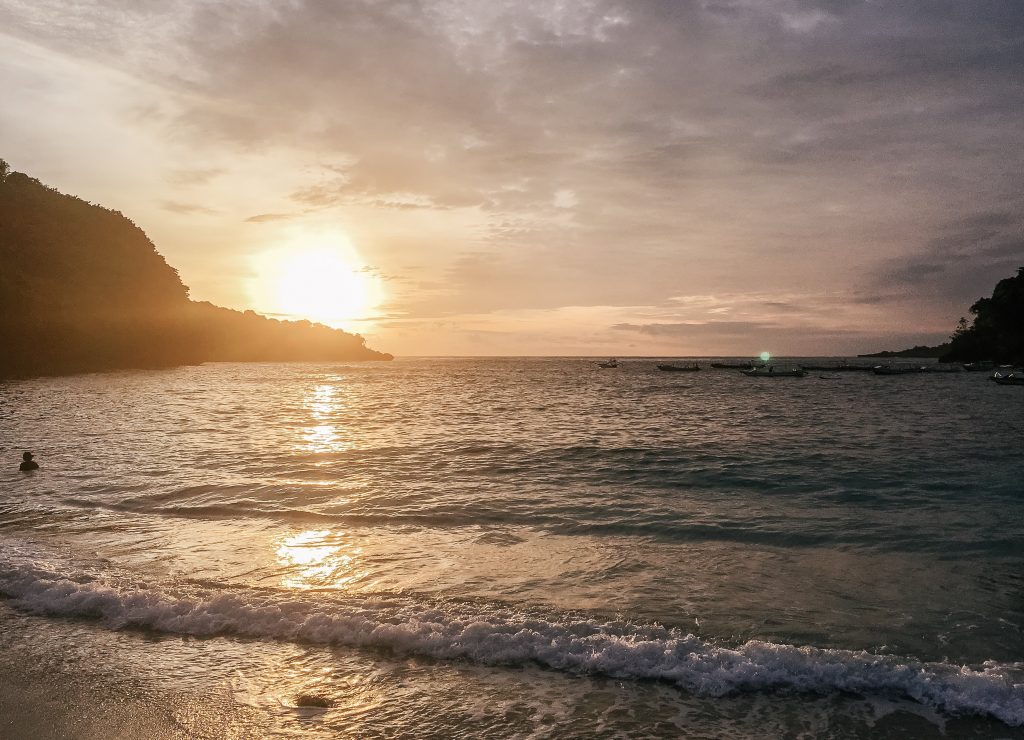 Atuh beach
A personal favourite! A picture-perfect beach located on the east coast. This secluded bay with its turquoise water is surrounded by high cliff walls. Follow the small dirt road from the parking, it's a short yet steep hike but an easy one compared to the Kelingking beach hike 🙂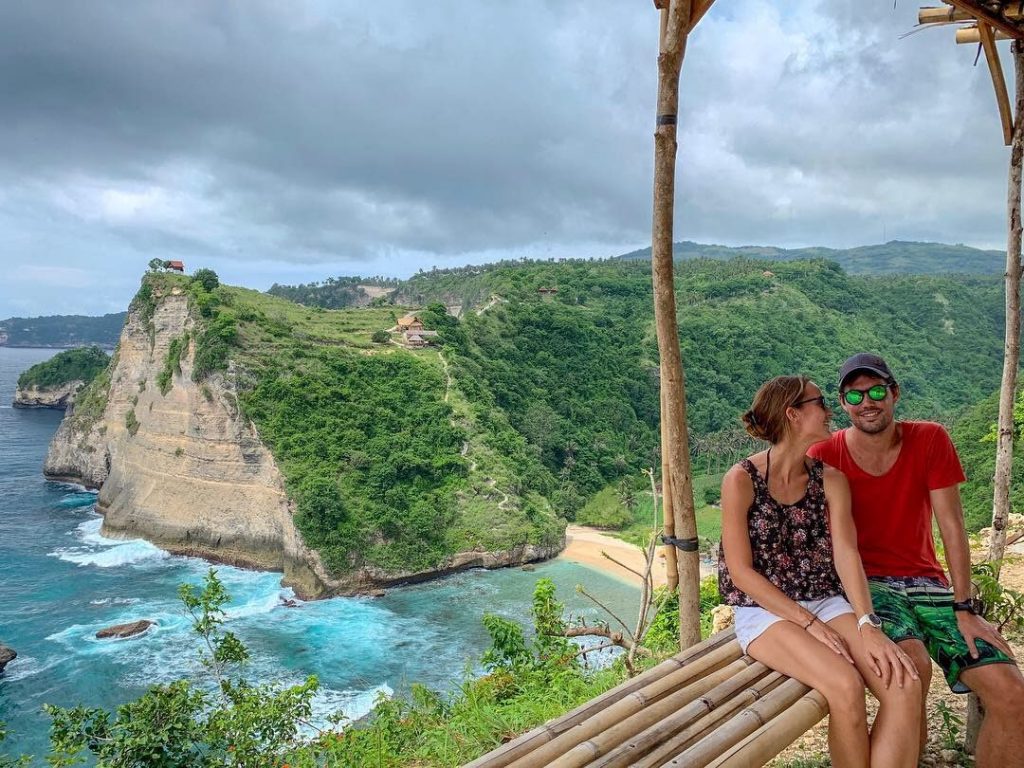 Angel's Billabong and Broken beach
A 45min (bumpy) drive from Kelingking beach you will get to Angel's Billabong, a scenic rock formation with a naturally formed infinity pool. About 5min walking from Angel's Billabong lies Broken beach, a picturesque viewpoint with a little cove in the cliffs. After a full day island touring on the motorbike we decided to skip these two; don't underestimate the road conditions in the south!
Peguyangan waterfall
Another great clifftop viewpoint with a strenuous hike, this time on the south shore of the island. Although referred to as a waterfall, Peguyangan is actually more of a religious shrine. There's a long walk down the steep, blue stairs with this magnificent view until you reach the shrine. Remember to pack a sarong or rent one for 10,000IDR.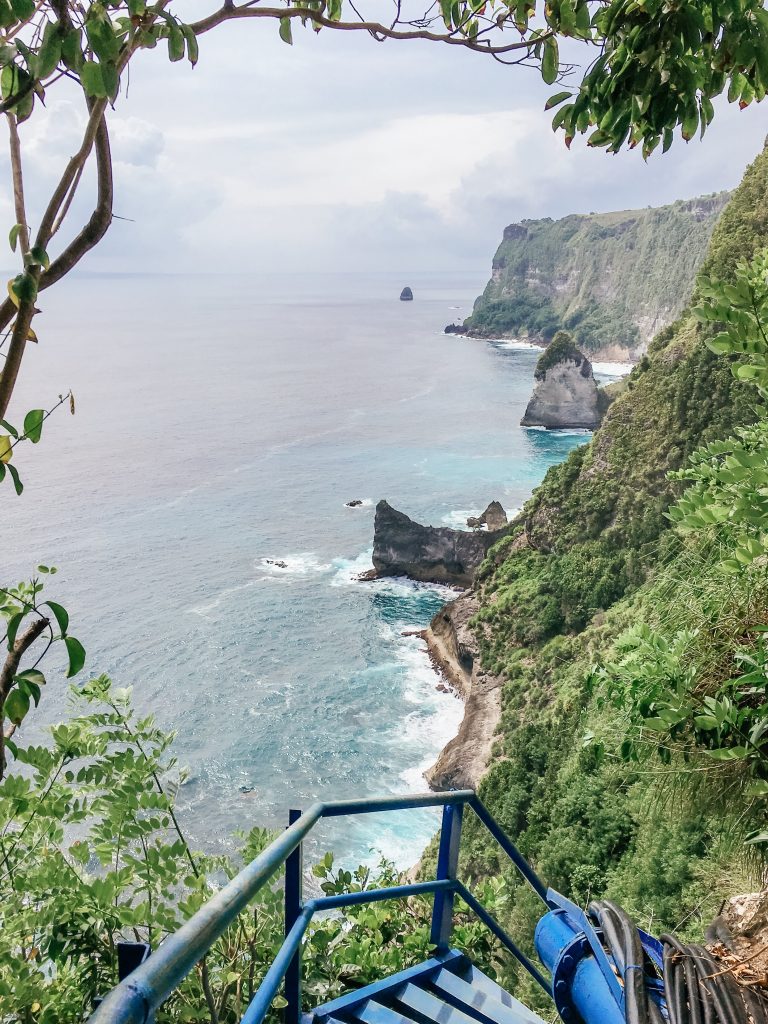 Teletubbies hill
Lush green rolling hills in the middle of the island. We included this as a stop on our way from Atuh beach to Peguyangan.

Where to stay in Nusa Penida?
Most infrastructure is based on the north shore of the island and this is by the far the best area to stay: good road conditions and close distance to the port and restaurants. Here are some of our recommendations:
Pudak Nature Homestay: Basic bungalows with private bathroom just a 10min drive from the port with many dining options nearby. Good for budget travelers. Around $22/€20 per night.
Saka Boutique Hotel: Great location, a few minutes walking distance from the port. The hotel features a swimming pool. Around $40/€36 per night.
Kompyang Cottage: Beautiful, elegant cottages located on the north coast featuring swimming pool. Around $63/€56 per night.
Where to eat in Nusa Penida?
We started our day with a granola bowl and smoothie at Peñida Colada. This café/restaurant enjoys an amazing view of Mount Agung in Bali. We had some cocktails here as well on our first evening and all were superb!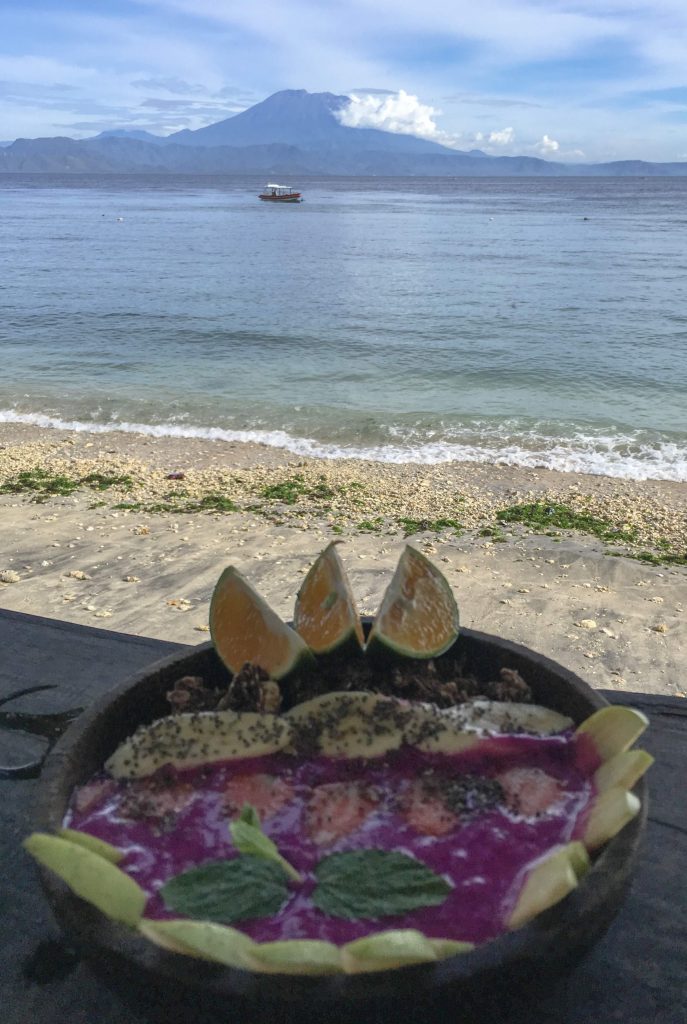 For lunch we stopped at Villa Batang Golden Hills (near Atuh beach) where we had a delicious nasi goreng for only $/€2. We finished our day with a great seafood pasta at Organica, near the port.
We had some time left before taking the ferry back to Bali and headed to Maruti beach club, just a few minutes walking from the port. A great place to hang out and take a quick nap.
How much does a Nusa Penida weekend trip cost?
See below a breakdown of our expenses during the weekend:
Accommodation: $23/€21 per night, breakfast included
Transportation: The hotel charged us 550,000 IDR – $38/€34 – per person including pick-up and drop-off from/to Ubud, fast ferry Sanur-Nusa Penida-Sanur and pick-up and drop-off from/to our bungalow in Nusa Penida
Motorbike rental: $5/€4.5 per day
Plan your Nusa Penida trip now, it's a gem of an island! Contact us for advise or travel assistance and we will research accommodation, transportation and activities personalized to your needs.