The Camino: A journey to Santiago de Compostela
Feeling in awe with nature, enjoying incredibly delicious food and meeting fellow hikers/bikers who are all heading to the same destination, Santiago de Compostela. A short summary of our holiday as we're back home from a great experience, the Camino de Santiago or Saint James Way. There's so much information available so we will stick to some personal notes and recommendations that we hope might help you when preparing for this.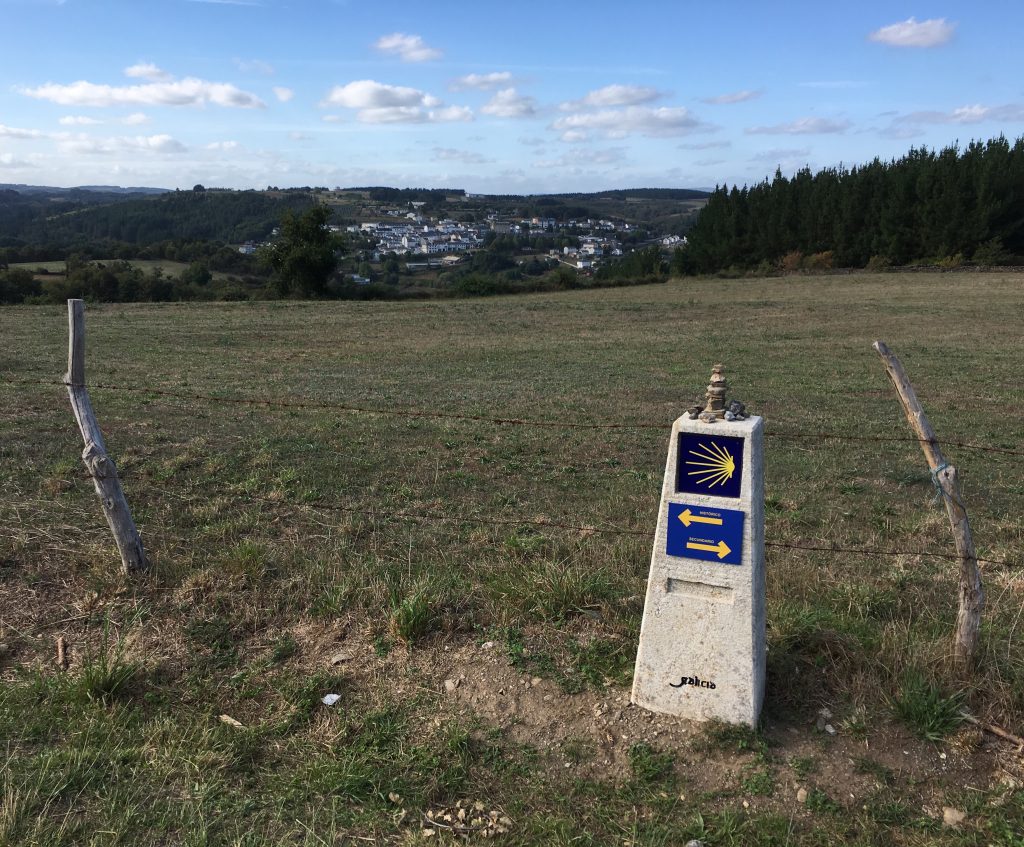 What is the Camino?
Let's start by making clear that the Camino is not one single route but a large network of pilgrim routes across Europe that converge at the Cathedral of Santiago de Compostela. What began as a pilgrimage to the tomb of the apostle St James is nowadays a true experience that thousands of people, from all over the world, complete with different kinds of motivation. Everybody walks their own Camino.
The most popular route however is the Camino francés or the French route which starts from St Jean Pied de Port, nestled at the foot of the French Pyrenees. The first part is probably the most difficult stage of the journey as you cross the mountains. An alternative is to start at Roncesvalles, the first town across the border in Spain where you leave the Pyrenees behind you. If you start at St Jean Pied de Port, you will walk 780km over 30-35 days.
Many people will find it difficult to take one month off or are looking for a less challenging experience. That's exactly why Sarria, at 118 km from Santiago, is the most popular starting point. You can easily divide this route into 5 or 6 stages with an average of 20km per day and it earns you the well-deserved Compostela as you will have walked over 100km to Santiago.
This is exactly what we did: we divided the 118km in 6 stages of respectively 22.75, 25, 15.2, 14.5, 19.2 and 19.9km. Some pilgrims take stage 3 and 4 as one stage but end up exhausted. The only advice here is to know yourself.
In addition to the French route, there are 7 other "caminos" to follow across Spain. Worth mentioning is the Camino portugués or the Portuguese route which starts in Lisbon and heads north towards Porto. The last stretch – Porto to Santiago – is a popular route as well in terms of number of pilgrims and is "only" 240km long.
Note that all routes can also be finished by bike or even on horseback. Bear in mind however that a large part of the camino is via unpaved paths, there's a lot of up and downhill as well so we only recommend you to cycle the Camino if you have some experience as a cyclist and know how to change a tyre at least.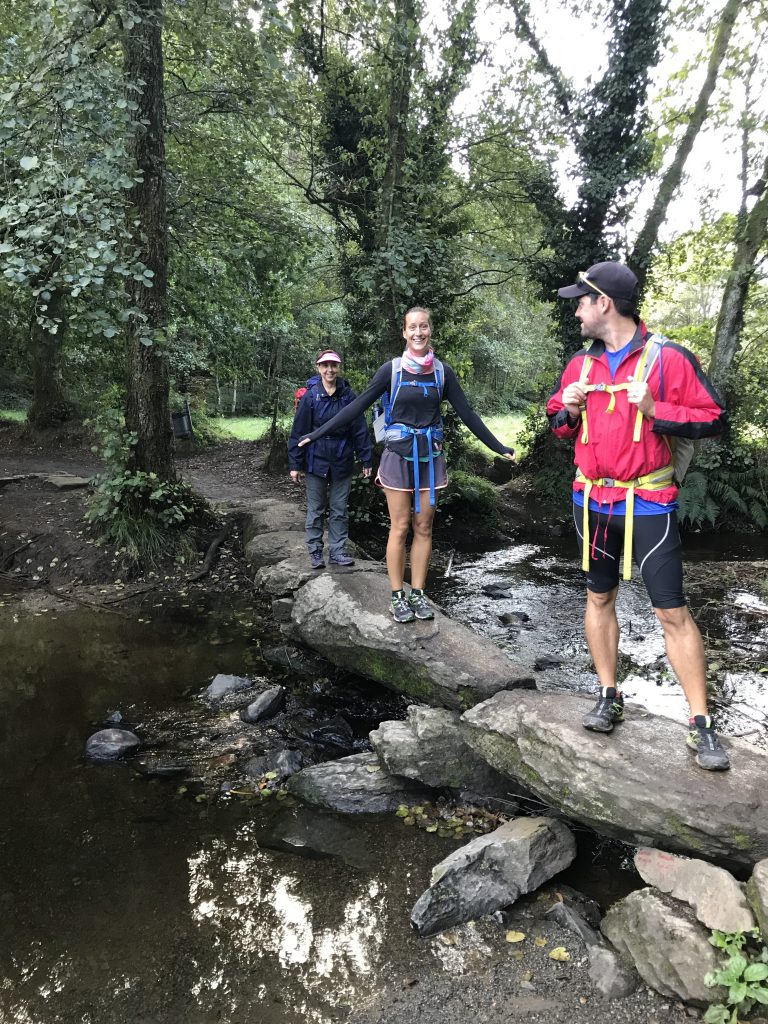 Personal notes and recommendations
Getting your Pilgrim's Credencial or Accreditation
The only document you need along the Camino is the Credencial or Pilgrim's Credential. It's your official passport that will record all places that you have passed. You need to stamp it at least twice a day for the last 100km (for pilgrims on foot or horseback) or 200km (for cyclists). You can buy it for only €2 at many hostels and cathedrals along the Camino (we bought ours at the Cathedral of Oviedo) or associations of the Camino in Spain or abroad.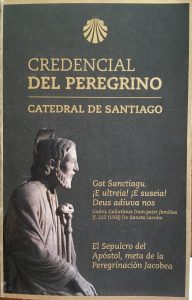 Left: Pilgrim's Credential – Right: One page with all stamps of that day
Eating along the Camino
We've done many long, multi-day hikes in the past and always carry some energy bars, dried fruit and water with us. What we didn't know, is that you will find many bars and restaurants or even self-providing stands along the route. Some locals just leave a table with food & beverages in front of their house, unattended, and you grab whatever you want upon donation.
Also, all villages where you will sleep overnight have some small supermarkets and several restaurants where you will be able to recharge your batteries.
Don't miss: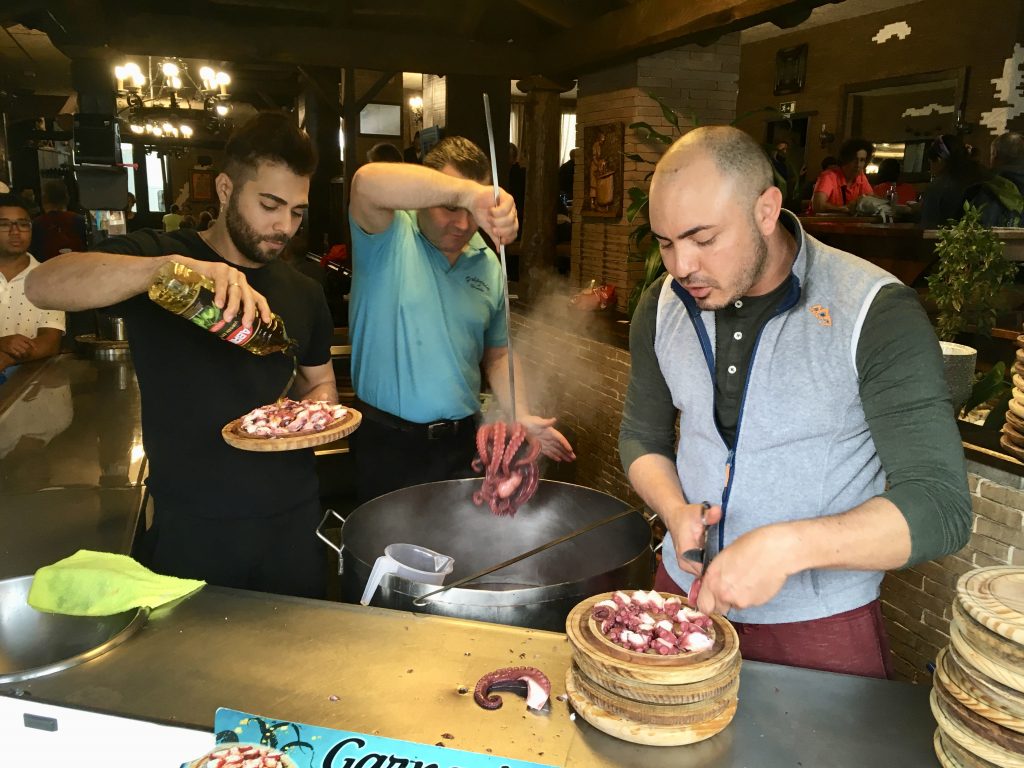 Staying overnight along the Camino
You can choose how much you want to spend on accommodation. The "albergues" or hostels with a shared dormitory and bathroom, start from as less as €8/bed/night. We were traveling with my parents-in-law so we chose a little bit more comfort and privacy. We highly suggest you to book your accommodation in advance, especially if you travel during high season (Jul-Aug).
Don't miss:
How to pack?
Packing right will make your journey more enjoyable and above all, can save you some important kilos. Note however that there's a huge offer of luggage transfer services that can make the Camino easy for you by taking your luggage or backpack to your next hotel.
Nevertheless, we decided to carry our backpacks so had to pack wisely:
Many hotels/hostels offer laundry service so there's no need to carry clothes for each day. Take some tweezers with to hang your clothes to dry.

If you walk the Camino during Spring/Autumn, bear in mind that the mornings and nights can be chilly so take at least one warm sweater/jacket with you.

Avoid blisters by taping your most vulnerable areas (around the toes and heels) with

Compeed

patches.
Getting your Compostela
When arriving at Santiago de Compostela, many people will head immediately to the Pilgrim's Reception Office, at 250m from the Cathedral, to get their "Compostela" or accreditation of pilgrimage. Remember that you need at least two stamps per day for the last 100km (for pilgrims on foot or horseback) or 200km (for cyclists).
Now, the best advice we got from a fellow pilgrim was to identify ourselves as a group (of four) in order to avoid the long cue. After filling out some paperwork, we were assigned an exact hour (3 hours later) to come back to pick up our Compostela.
Important note: All of the group members need to have the same start day and start point in order to enjoy this benefit.
If you've met some awesome new friends along your route who started the exact same day as you and from the same village as well, then we highly recommend you to do the same as we did to skip the lines (in summer cueing can take up to 4h!).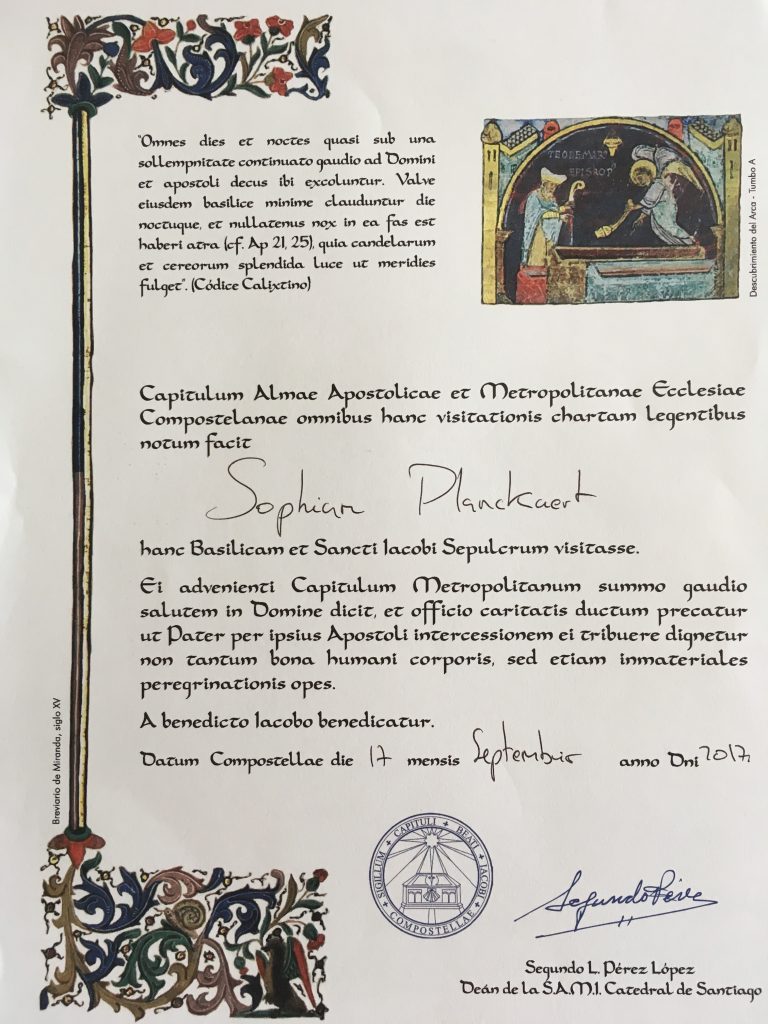 All roads lead to Santiago
Whatever your start point, motivation or story is, you're part of a unique journey that will take you to Santiago de Compostela. Would you like to walk the Camino but you have some questions or doubts? Do you need help booking your trip? Our Personal Travel Planners are happy to assist you! Contact us today and we will get back to you asap.