Best Beaches in Menorca
Crystal-clear turquoise water, fine white sand, tiny coves and lush green vegetation. It sounds like a remote island in the Caribbean but we're talking about Menorca, the smallest of the Balearic Islands (Spain). With 216km of coastline, it's a paradise for beach lovers! We're lucky to call this amazing island our home and we want to share our list of best beaches in Menorca with you.
North & South Beaches
It's important to make a difference between the beaches in the north and south of the island. The north coast is more mountainous, with rock formations that resemble a lunar landscape in many places. It's very rough and virgin and that's one of the reasons we absolutely love the north side of the island! The south coast has more vegetation and light sandy beaches which make the water look transparent and turquoise. Access to most beaches in the south is easier and there's more infrastructure (beach bars, restaurants) so these beaches can get more crowded, especially in the summer months.
In addition to the difference in terms of landscape and scenery, your choice will also depend on the wind conditions. When the south wind blows, the north is usually calmer and with less jellyfishes, and the opposite occurs when the north wind blows. Always check the latest wind conditions! We use the Windy app to get the most accurate wind forecast.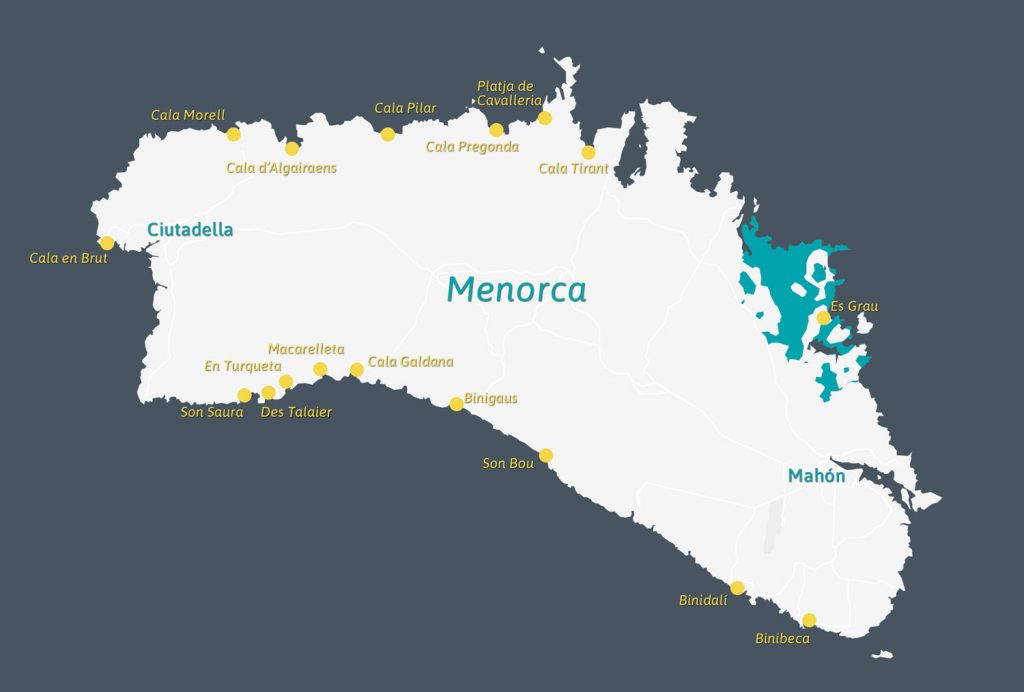 Best Beaches in the North
Cala Pregonda
From the car parking at Cala Binimela you need to walk about 30min to get to this long beach with reddish, gold sand and transparent water, great for snorkeling. Behind some rocks you will find a second, smaller beach.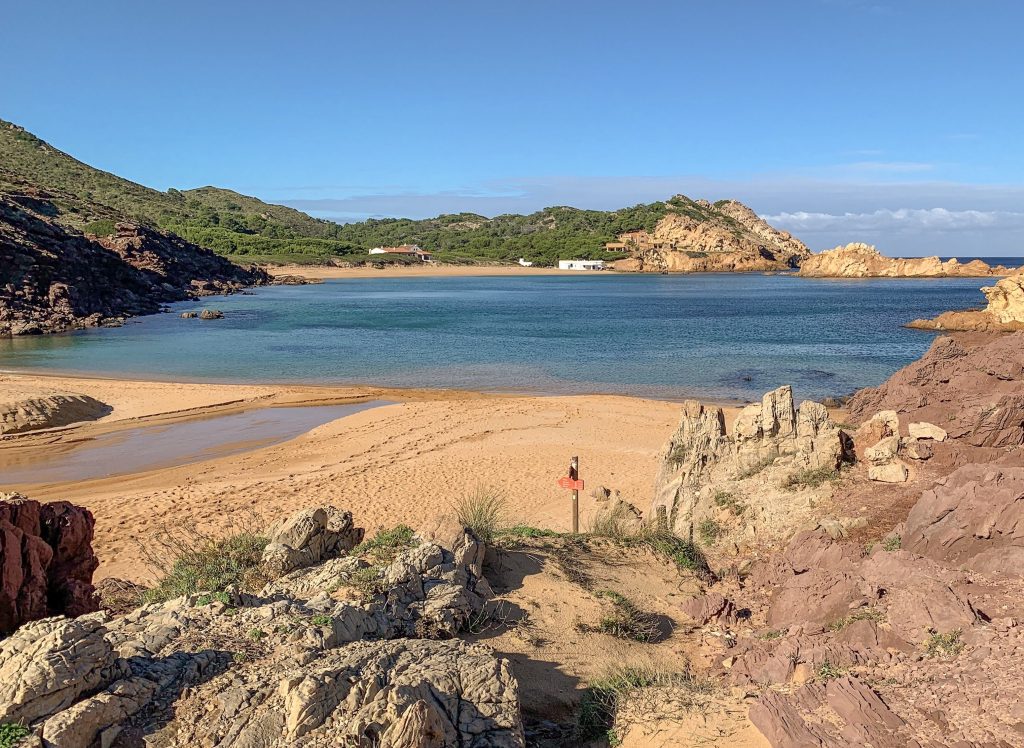 Es Grau
Es Grau National Park is a huge natural area located near Mahón. There's a large parking outside of the village of Es Grau and the nearest beach is only a few metres away. It's great for families as the water is calm and not deep. If you keep walking along the Camí de Cavalls, you will find several smaller beaches that are less crowded.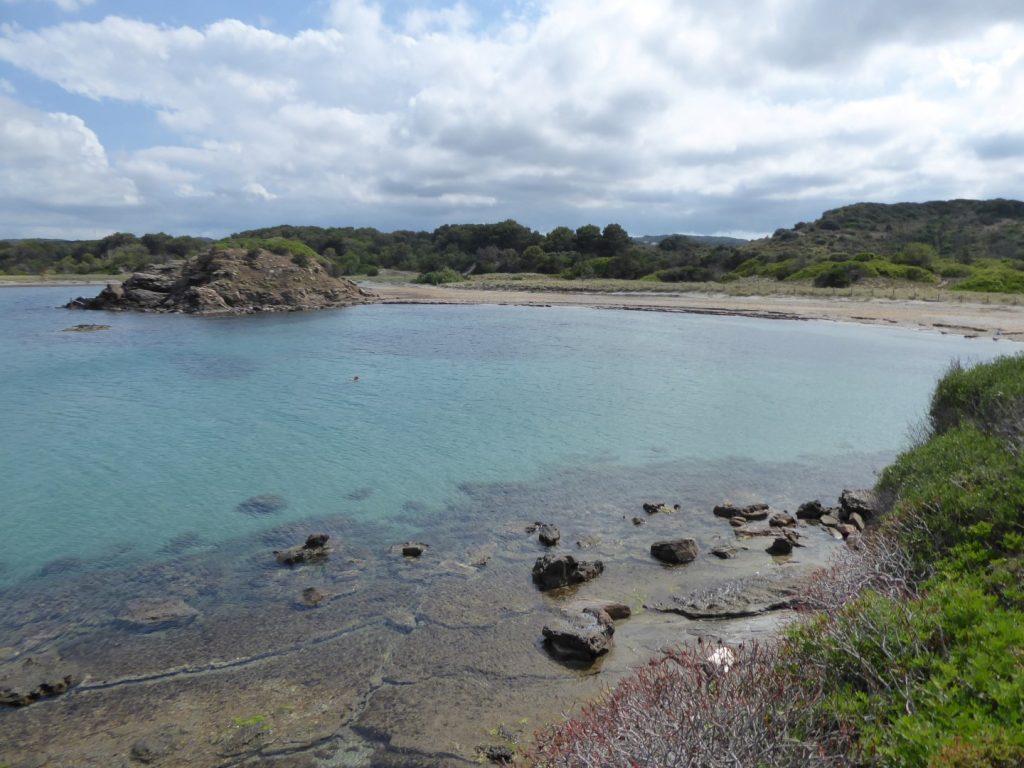 Cala del Pilar
This wild beach is one of the less accessible beaches on the north side of the island. It's a 30min walk from the parking via a beautiful track. Usually it gets less visitors so it's a great spot to unwind in summer far away from the tourist crowds.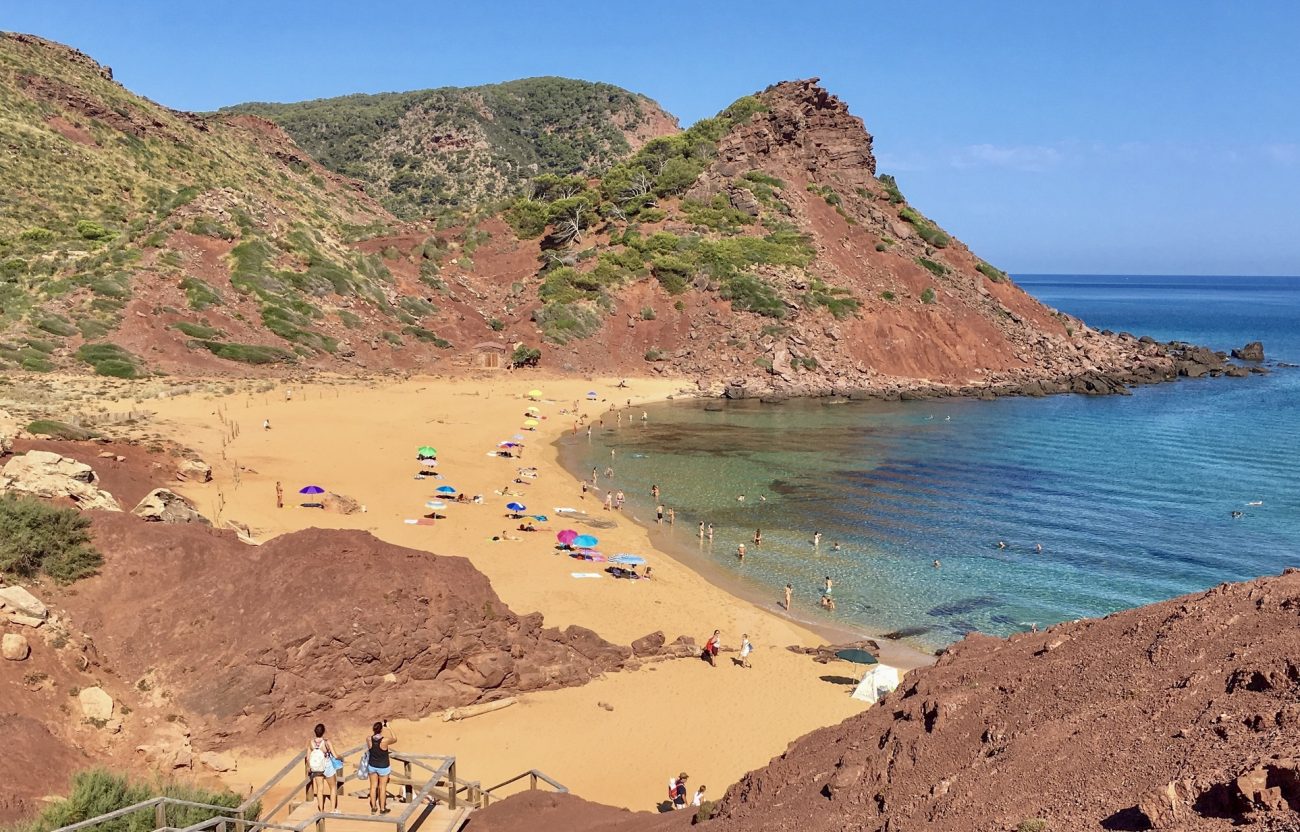 Platja de Cavalleria
A very long stretch of beach easily accessible from the car parking but with some steps to actually get to this stunning beach. The parking lot has a toilet (and beach bar in summer) and there are several picnic tables with views on the beach.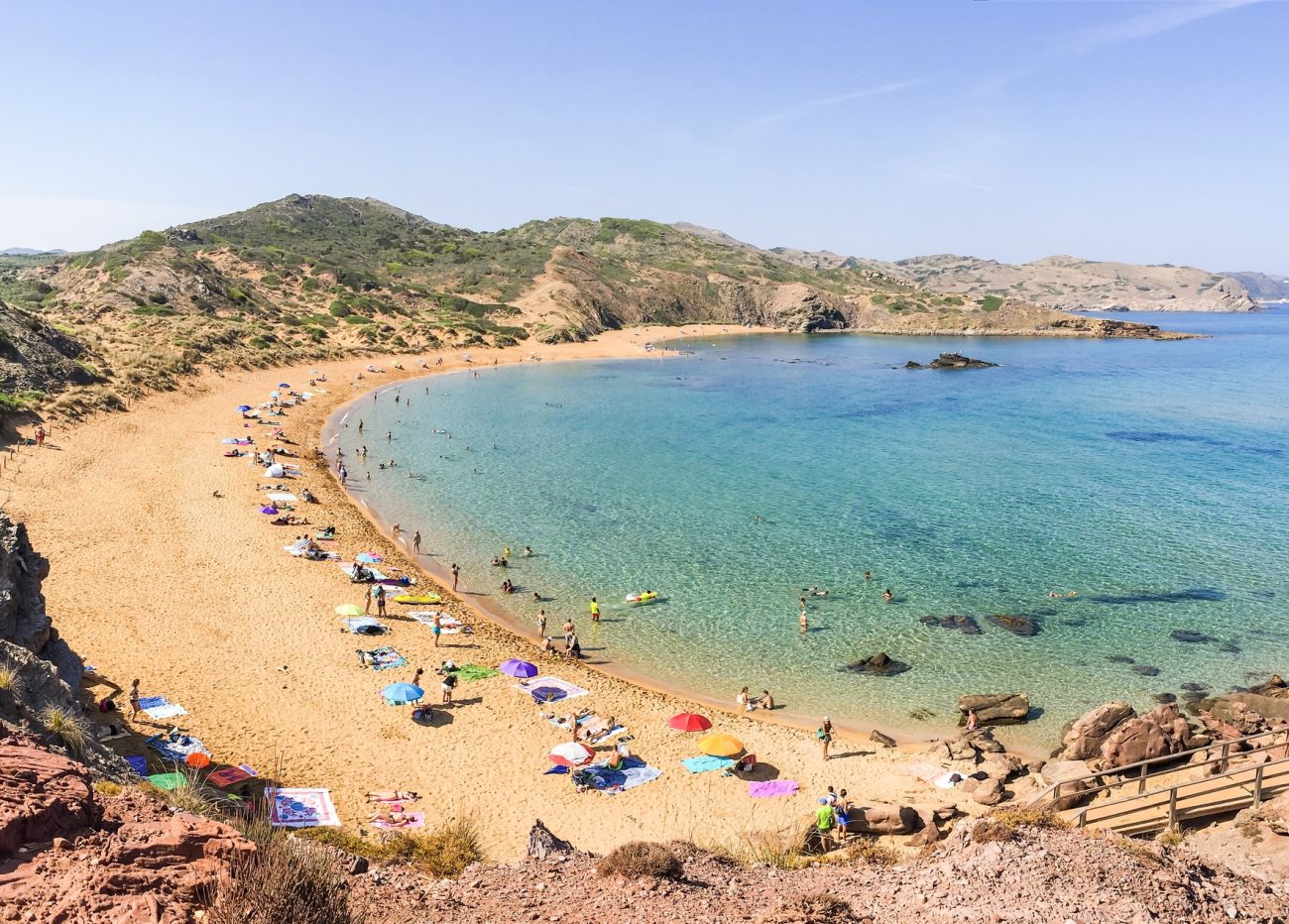 Cala Morell
Cala Morell doesn't really have a sandy beach as it's a small port town. It's a sheltered cove surrounded by cliffs. There are several stone platforms with a ladder from where you can easily jump into the water.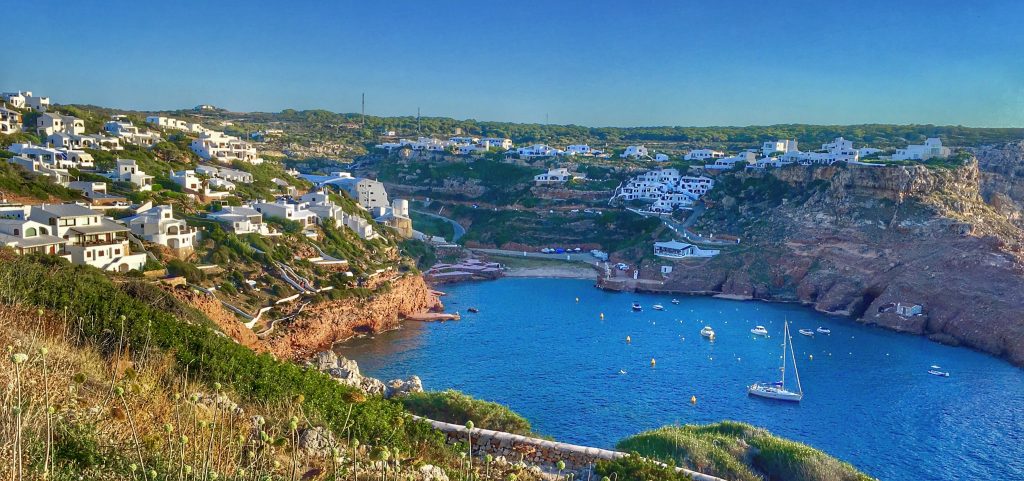 Cala d'Algaiarens
Locals refer to this beach as La Vall; it's a cove split into two golden sandy beaches. The first one, Platja des Bot is near the car park and although very nice, we recommend you to go to the second beach; Platja es Tancats which is much quieter.
Cala Tirant
This sandy beach lies in the bay of Platjes de Fornells, a holiday town. There are 2 beach areas, which separates the main beach from the smaller one in the east, separated by some wooden stairs.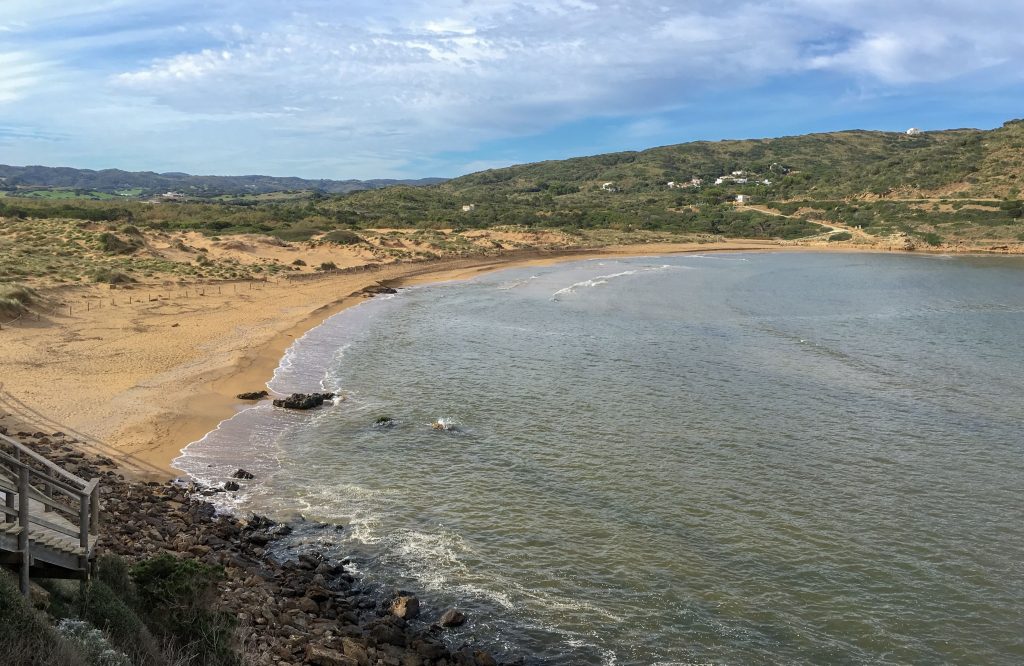 Cala en Brut
The platforms in Cala n Brut are a popular place for young people to jump into the clear water. Just a few minutes drive from Ciutadella.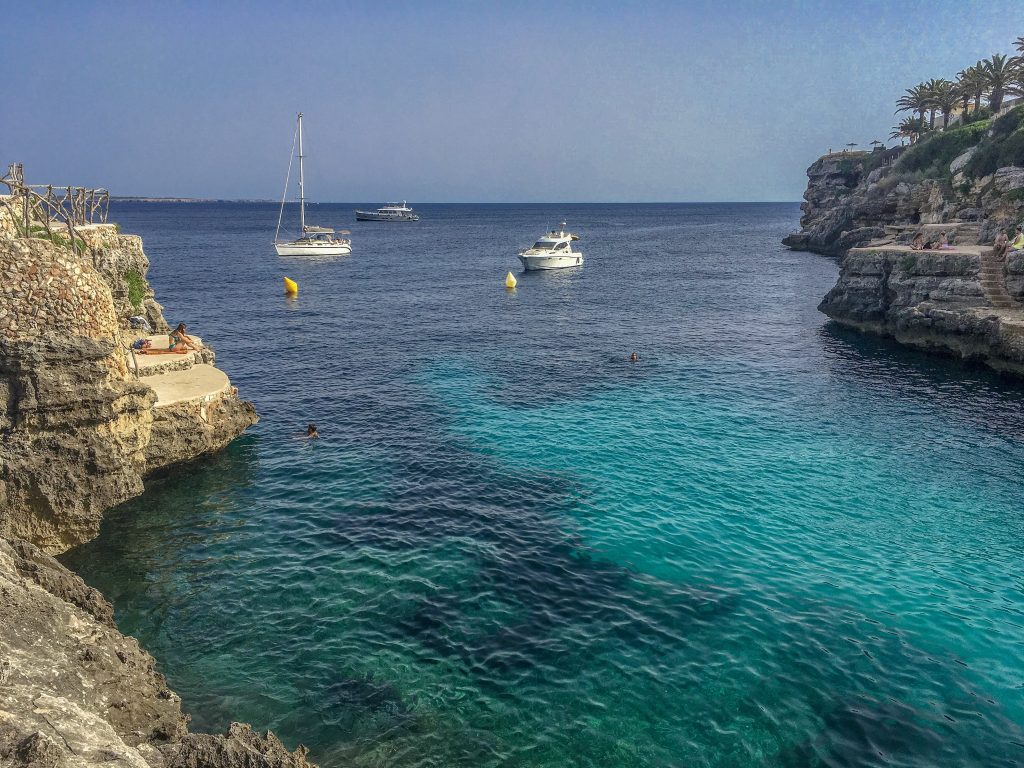 Best Beaches in the South
Cala Macarelleta
A postcard-perfect beach with clear, turquoise water set in an idyllic cove just a few minutes from the main beach at Cala Macarella. In summer both beaches get extremely crowded and the road to Macarella is closed to traffic. There's a shuttle bus covering the popular route during high season.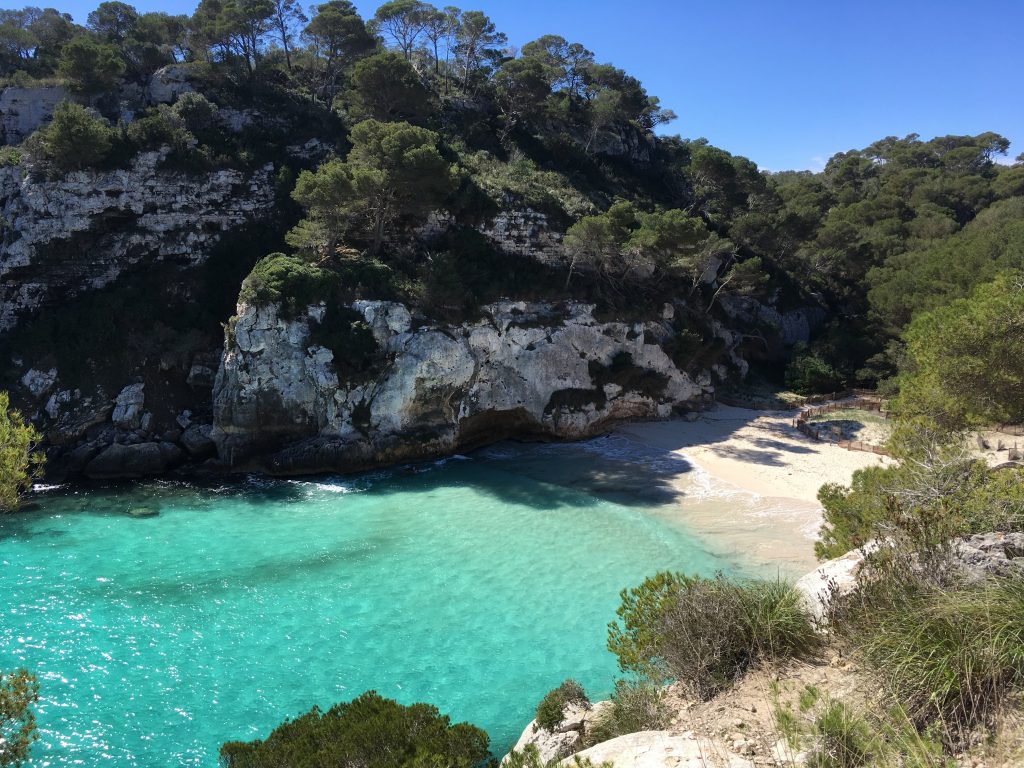 Son Saura
A family-friendly beach with calm water that's barely knee-deep. Access is easy but make sure to arrive early in high season as the car park closes once it's full.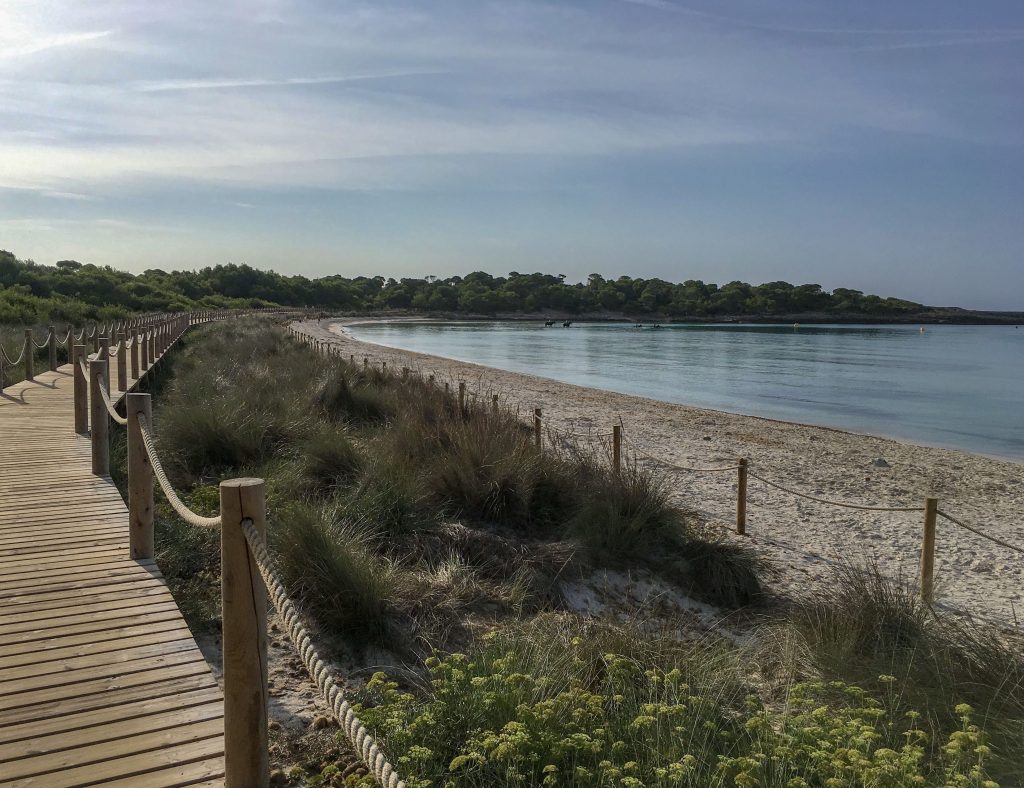 Cala des Talaier
A few minutes walking from Son Saura you'll find this small idyllic beach. There's a large picnic area tucked away behind some pine trees. Space can be limited during summer but if you go right before sunset, you'll find the beach almost empty.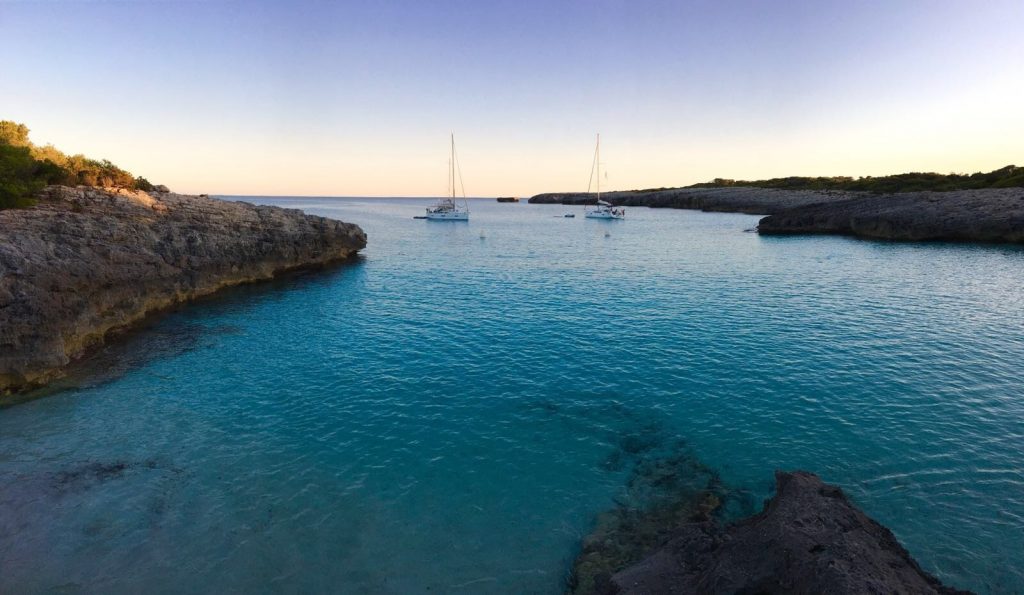 Cala en Turqueta
Relatively small beach – divided in two areas by some rocks – surrounded by pine trees. The car park, which has a small bar, lies about 20 minutes walking from the beach.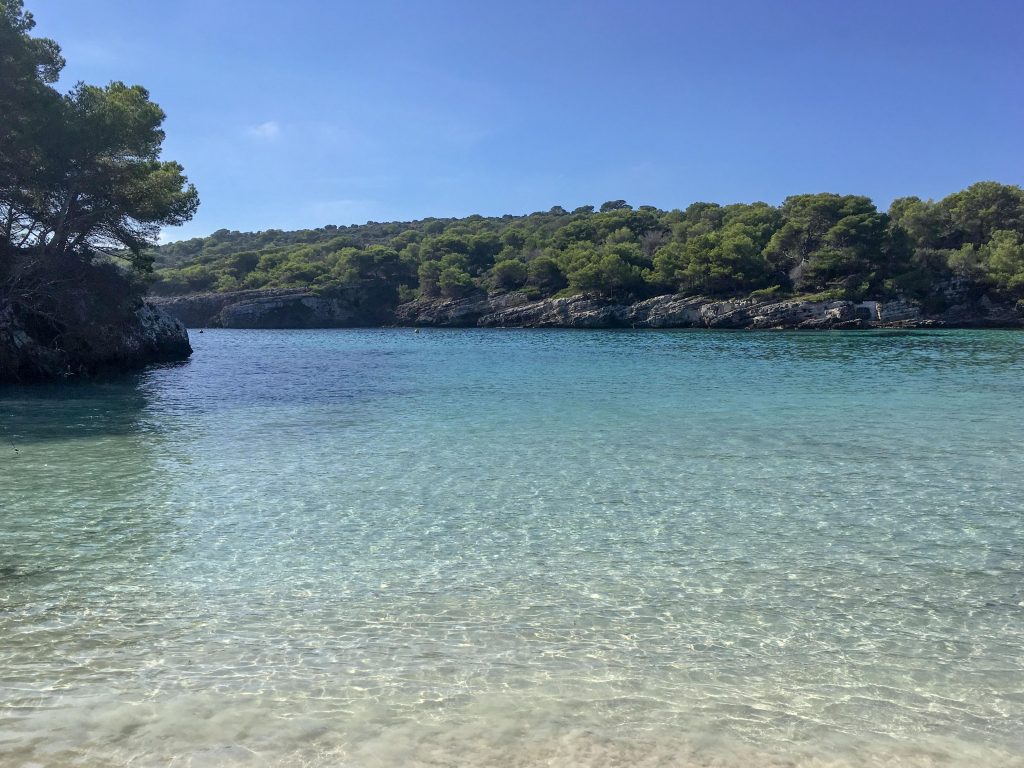 Cala Galdana
Cala Galdana is one of the most popular beaches in Menorca. It's also one of the few beaches featuring a holiday resort. During the summer months it's hard to find a parking spot in the town. During low season however, you will find plenty of parking space and a pristine, natural beach.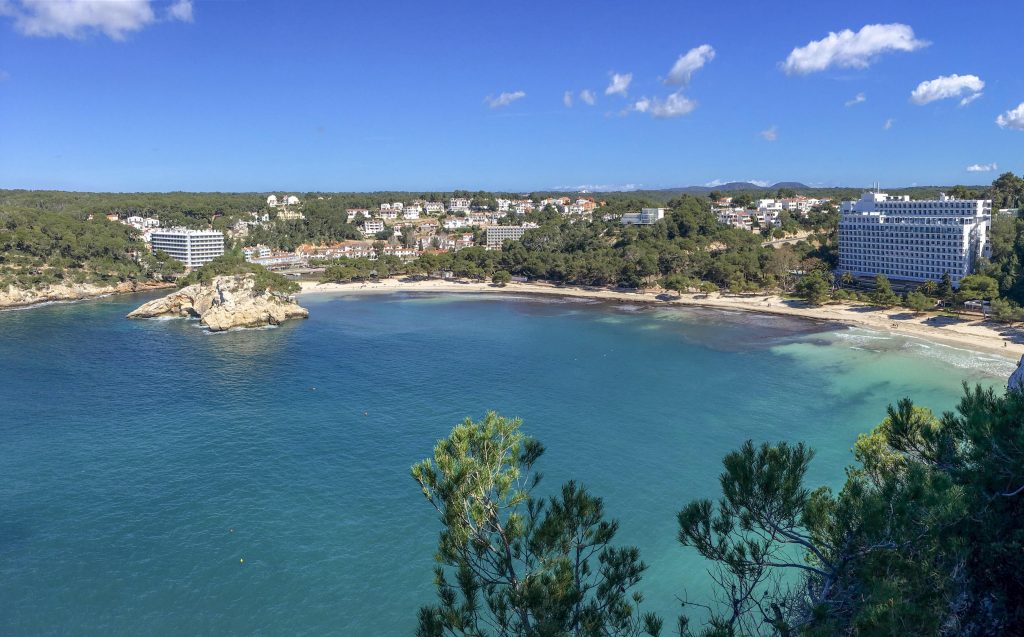 Platges de Binigaus
Park at Santo Tomás and keep walking towards the right to find a private and nudist spot.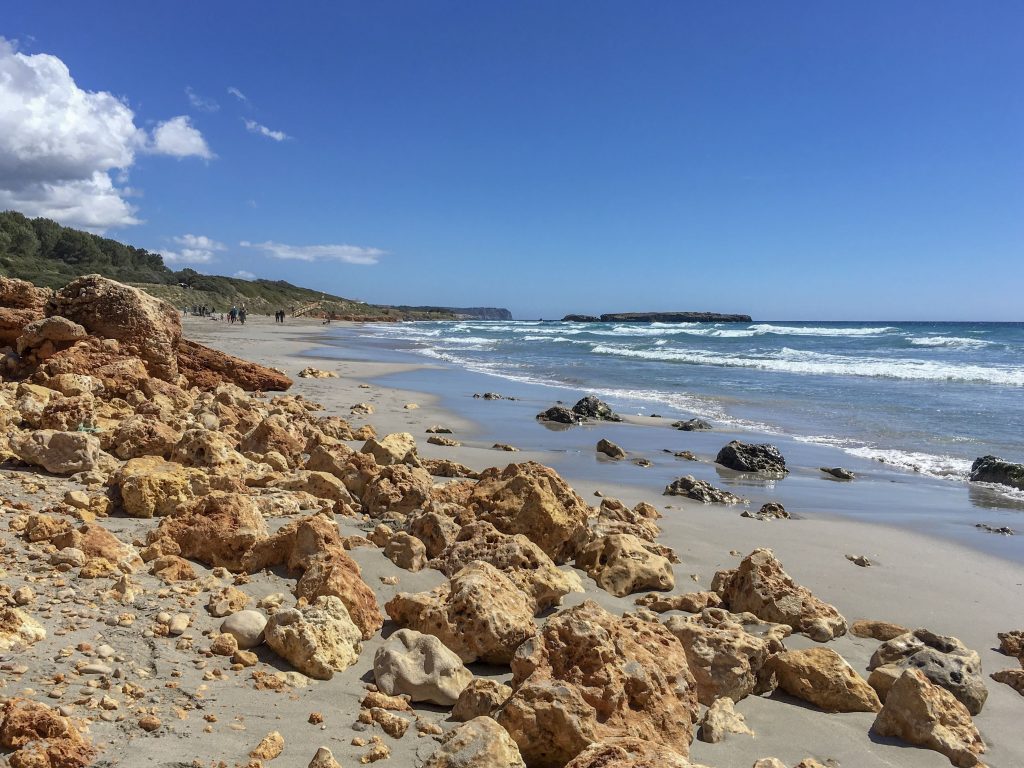 Cala Binidalí
This tiny beach is tucked away in a secluded cove, popular with nudists. There's a small bar near the main road, right next to the steep path that leads you to the beach.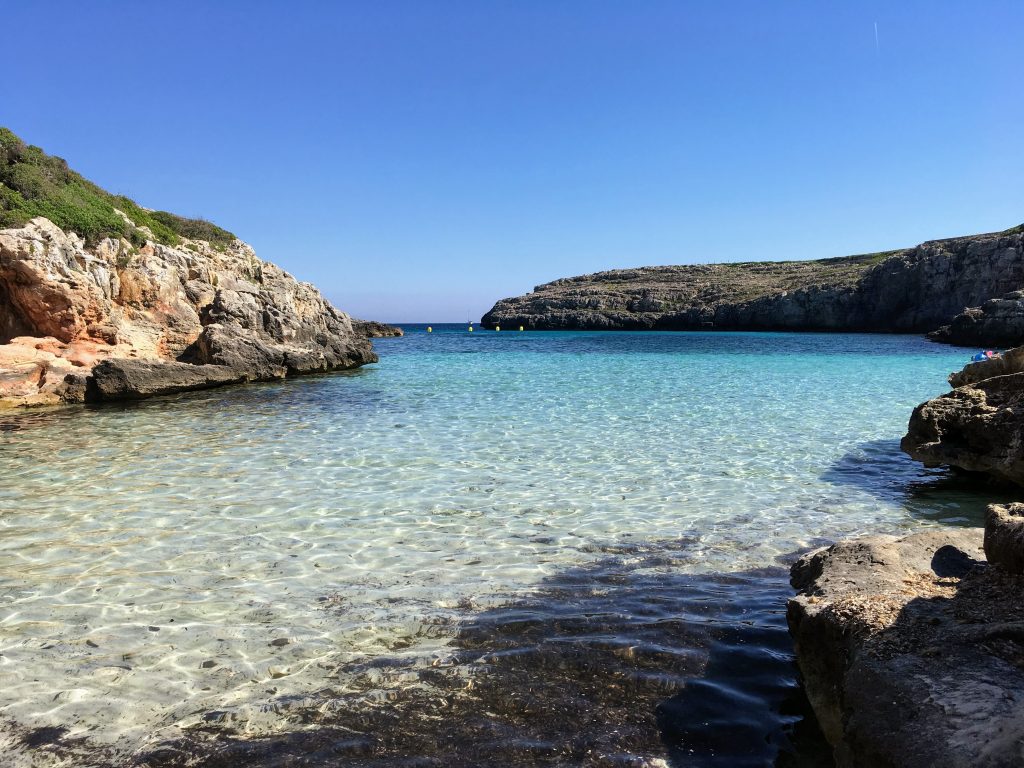 Cala Binibèquer
The charming village of Binibeca is a popular tourist destination in Menorca and its main beach with soft sand is a great spot for families who want all facilities nearby.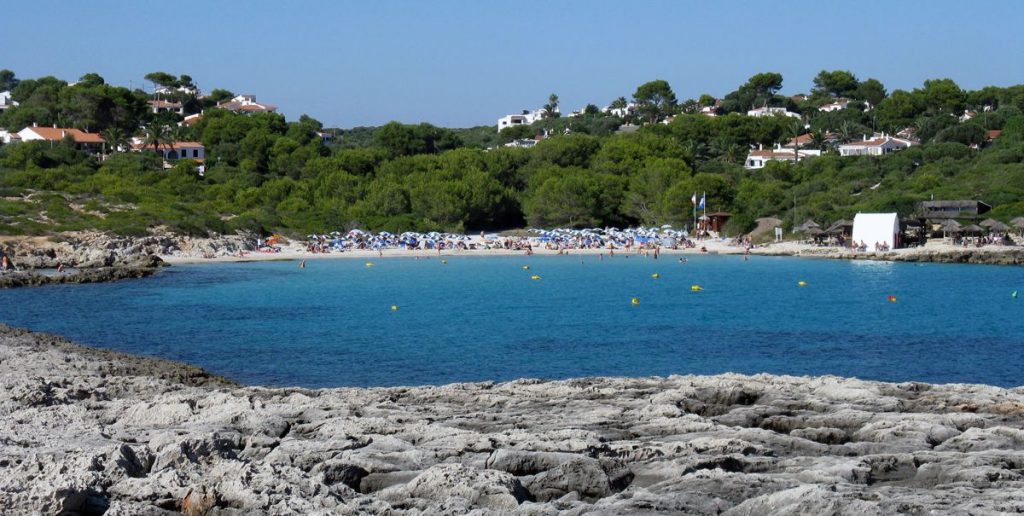 Platges de Son Bou
You can enjoy Menorca's longest beach, 3km long, from the comfort of your sunbed. Its high exposure to wind makes it also a popular kite spot.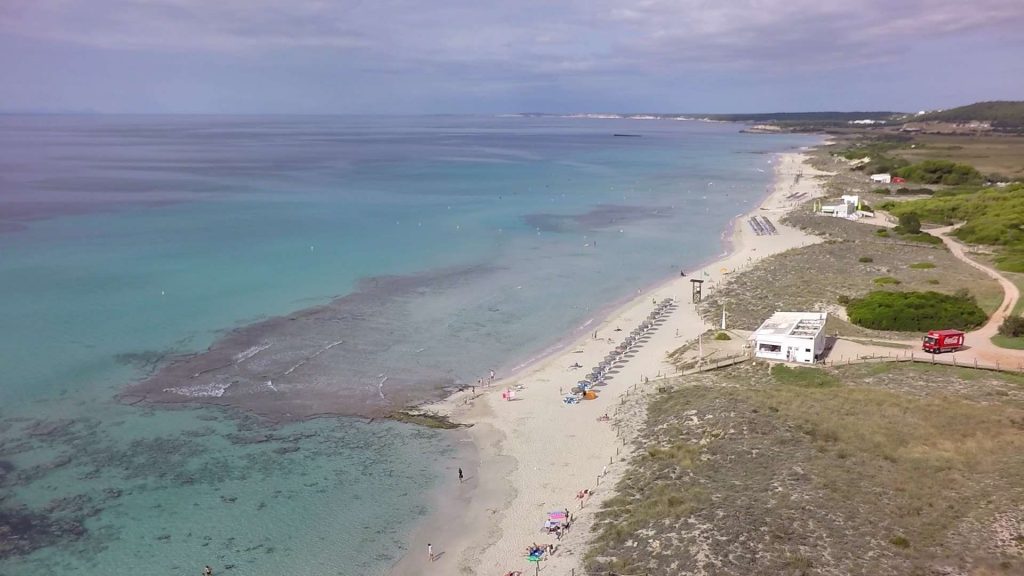 Remember that Menorca is also an excellent beach destination in low season. It might be a little too cold for a swim in one of these beautiful beaches but day temperatures are still high (17ºC) and make it a great time to walk/run/mountain bike along the island!
Whether you're traveling to Menorca in high or low season, make sure to contact us for local advise or help with your bookings!