Traveling around the world.
How to plan your trip?
Traveling around the world is a great learning experience, it's the ultimate travel adventure. But when it comes to planning a round-the-world trip, many people don't know where to begin. We know it can be challenging so we are sharing our experience and we hope it will help you to get through this process.
Our trip around the world
In 2015 I left my corporate job and a few months later Fran and I were boarding a plane direction Cape Town, the start of our trip around the world. Indeed, it all went quick! Our one-year trip turned into a 15-month journey as we decided to head back to Cape Town before returning home. The circle was completed. We managed to visit 13 different countries; including (in chronological order) South Africa, Thailand, Cambodia, Vietnam, Indonesia, Singapore, Australia, USA, Mexico, Martinique (France), Argentina, Uruguay and Brazil. It was an amazing year! All the clichés of traveling around the world are definitely true: we met many interesting people, savoured the local cuisine in each country, learned some new words in a couple of foreign languages, saw the regional differences and cultural richness of each place and most importantly, we felt in awe with nature and this wonderful planet! Read the full story on how it all started.

Where to start?
There's a big world out there waiting for you to be explored. As fascinating as it sounds, we also know that it's a complex business. That's why we're here to take the stress out of the planning process. First of all, let's break it down into several steps:
Where should I go?
This is the fun part! Maybe you have a bucket list of countries you've always wanted to visit? Which cities or cultures would you love to explore more? It all starts with your dreams, ideas or imagination. Take your time to brainstorm and research before you make a final decision.
In our case, we sat down with a glass of wine and made a list of the countries we wanted to visit (see below). We hadn't done any research yet looking for the best travel time or cost of living in each of these countries. So a couple of days later, we revised our initial plan and scratched some countries off the list.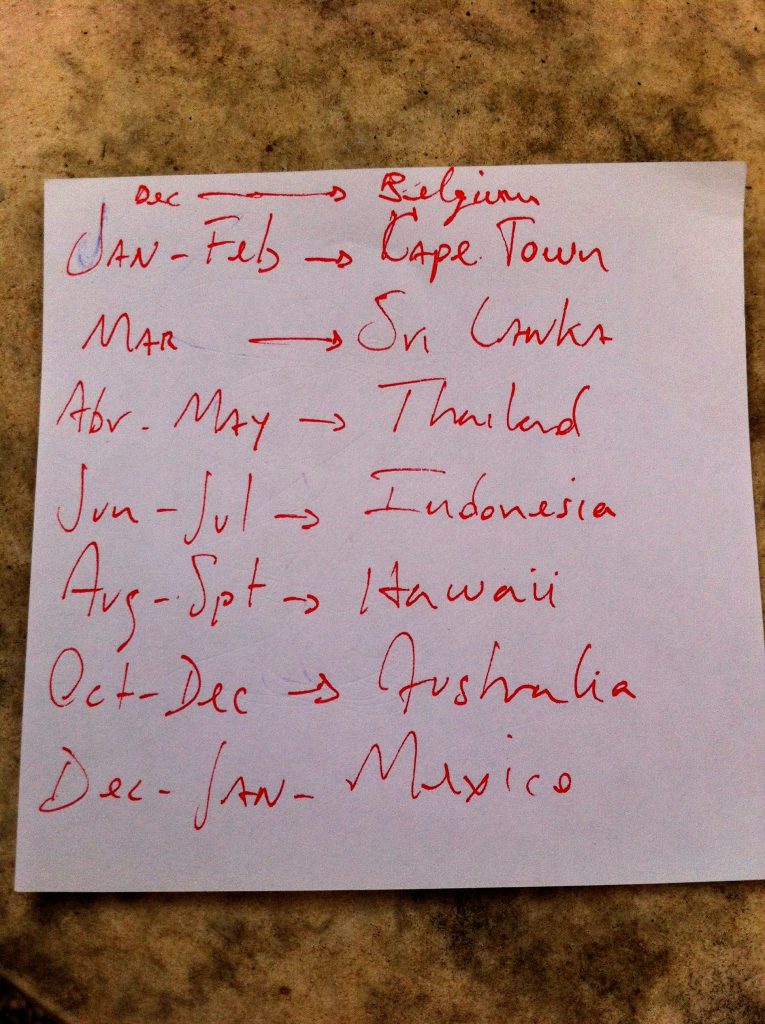 Some people challenge themselves to visit as many countries as possible in one year. This wasn't our aim and although it might seem appealing at first sight, it will quickly become exhausting. Stick to a few countries but allow yourself the freedom and flexibility to change your plans whenever you feel the need to move to the next destination.
Over planning isn't advisable, it will bring more stress than needed. We had our first 3 months planned before we left and decided on our next destinations along the journey. We do recommend you however to group all countries you want to visit per continent. At the end you want to travel following a coherent, logical route.
Once you know your first destination(s), you can look at flight tickets! We always booked individual tickets as soon as we knew what our next destination would be but did you know that you can also purchase an around-the-word ticket? Lone Drifters will tell you everything about the (dis)advantages of a world ticket!
How long do I need?
Ask yourself two important questions: "How long does my budget allow me to travel?" and "How long can I be away from my job/family/home?". Both factors are decisive to determine the length of your trip. Are you taking a sabbatical? Do you have any family commitments in the upcoming year you don't wanna miss? Are you using all your savings or will be you working while traveling? Be realistic and make necessary amendments to the number of countries you want to visit.
How much does it cost?
Taking about finance isn't really exciting and might cause you some stress but it needs to be done. It will define the duration and scope of your trip. Think broad as it's much more than just flights, food and accommodation. You will need to pay for insurance, visas, tours and attractions, vaccinations, etc. Make a list or even better, work with a spreadsheet where you include all expenses per country. It's ok to use an estimated cost; the aim is to give you a general idea of the total cost of your trip.
Now let's compare the approximate cost of your trip with your available cash. Do you have enough savings? Have a look at your financial situation before you start making some important decisions. A daily budget of $50/€50 won't get you far in Europe or the USA but it will cover your expenses for a few days in Asia. Avoid the more expensive destinations and choose for cheaper accommodation like hostels if you want to save some money for the rest of your trip.
Remember that you can also earn money while traveling the world. Our 15-month trip wouldn't have been possible without our remote jobs. If you're not a freelancer, you can also look for a job on the spot. Think about working in a hostel or resort, bar, restaurant or maybe you can teach English?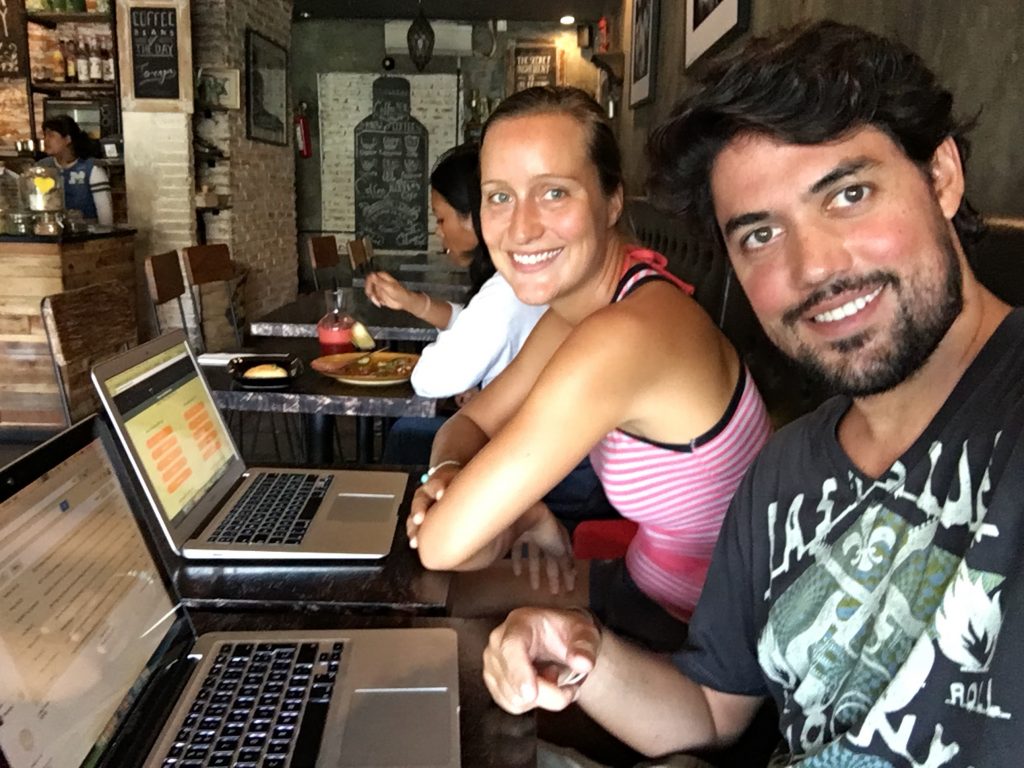 Do I need travel insurance?
Short answer: yes! There are many options and carriers when it comes to travel insurance so you need to check which one is most appropriate according to your travel plans. Whatever coverage you choose, make sure it includes flight cancellations/delays, loss and theft. Adventure travelers should include coverage for high-risk sports as well. We've used World Nomads in the past and were very satisfied with their service when one of our bags got stolen.  
What should I pack?
Look at  your itinerary and pack accordingly. We only had to pack summer clothes since we mostly picked tropical destinations. With one pair of jeans, a sweater, a jacket and a pair of comfortable shoes, we were covered for any kind of weather in case our plans changed. As a general advise, pack as light as possible, you can buy anything you need almost everywhere in the world.
Secondly, will you carry a backpack or do you prefer a wheeled trolley? Although a backpack sounds adventurous, we each traveled with a suitcase (23kg) and a small backpack. The latter is really useful if you want to make a side trip. For the suitcase, it's just more comfortable to get around (especially in airports), easier to pack and repack and (most) suitcases have a hard shell and are waterproof.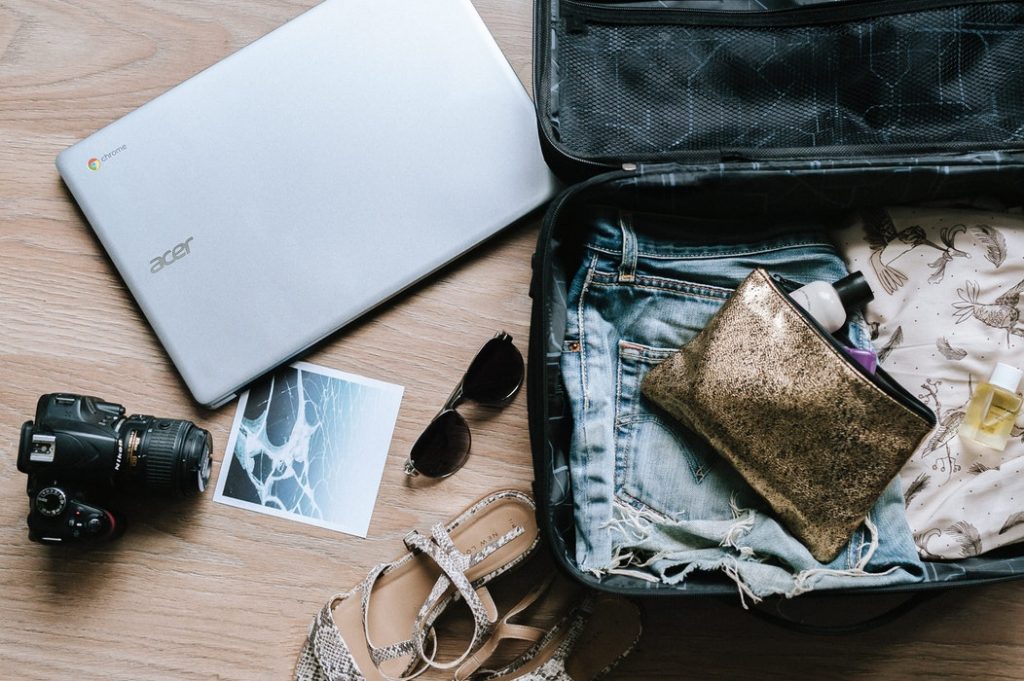 Do I need a travel planner?
Many people dream of traveling around the world but as inspiring as it sounds, it also brings a lot of stress. We've been there and now we're on the other side, helping fellow travelers like you. We want to take the stress out of your planning process. You can count on our expertise and our personal experiences to get it done. We will listen to you and together we will set up a plan that will excite you, taking into consideration your personal preferences and budget. We will research accommodation, suggest activities and recommend restaurants in each location of your trip. Read more about the added value of a personal travel planner.
In the last years we've passed on our personal recommendations and experiences to other travelers. It feels great and very rewarding to repeat the adventure through the stories of our travelers. This year we're helping the Tachner family to plan their trip around-the-world. During our calls we got to know each other and understood their needs and interests. While they're on the road, we're planning the next stages of their trip.
We'd love to help you as well! Whether you need some guidance to get through the initial process of picking locations or help to book accommodation and activities during your trip; our travel planners will assist you with their expertise. Contact us for more info!